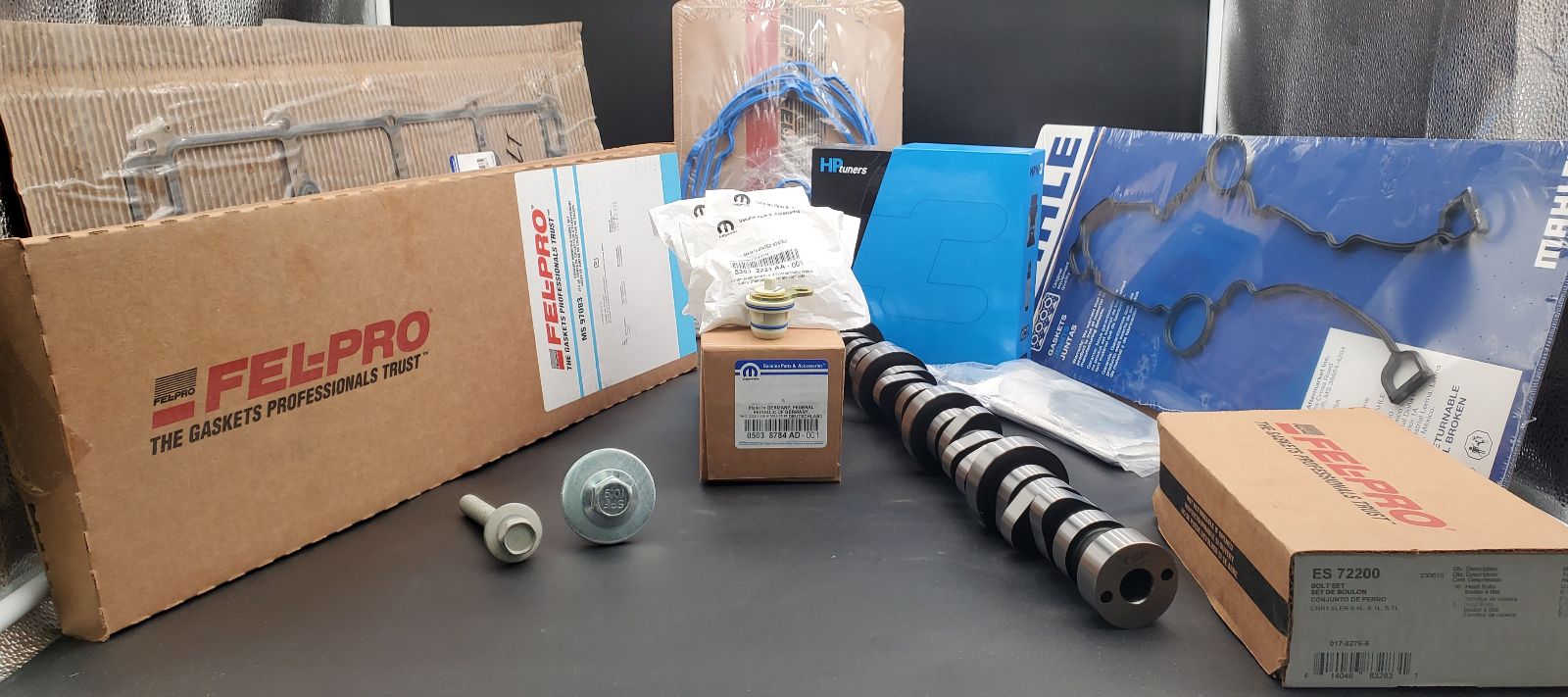 2009-2023 5.7 FRP MDS Delete kit WITH TUNING
The MDS delete kit will cover all MDS equipped cars/trucks/Jeeps from 11-23.
TURNING OFF MDS IS REQUIRED FOR THIS CAMSHAFT TO WORK PROPERLY. THE TUNING INCLUDED ONLY COVERS TURNING OFF MDS AND THE CREDITS REQUIRED TO DO SO. PCM UNLOCK SERVICE INCUDED WITH ALL  15+ PACKAGES. SMART CABLE INLCUDED WITH ALL 18+ PACKAGES
PCM SHIPPING INSTRUCTIONS
Customer is responsible for shipping their PCM to our vendor
FEDEX OR UPS ONLY !

Ship to:
American Muscle & Performance
1461 Southwest 30th Ave
Bay 16
Pompano Beach, FL 33069

Please include a note with your:
Name
Address
Phone Number
Order Number
Please specify it's an HPtuners unlock & it's for FRP
Delete Kits Include:  
HPTuners MPVI3+ 2 credits+ MDS delete tuning 
OE Replacement style Non MDS Cam
Hellcat Lifters with Trays
6.4 Head Gaskets
Hemi Head Bolt Kit
Valve Cover Gasket Kit
Timing Cover Gasket Kit
Cam Bolt
Crank Bolt
MDS Delete Plugs 
HP Canned Tuning

For stock, or bolt-on cars, trucks, and Jeeps, we offer "canned" tunes. Our canned engine/transmission tunes are designed for common bolt-on combinations of aftermarket parts. Such aftermarket parts can include cold air intakes, intake manifolds, aftermarket or modified OEM-based throttle bodies, headers and exhaust. These files have been extensively tested to ensure both long-term reliability and consistent performance. They are not designed for aftermarket camshafts , non-OEM injectors, or modified cylinder heads. FRP is not responsible for misuse of the supplied canned tunes. 
We are always tweaking things to see if we can safely improve on our previous work- as such we include one free update on most platforms for HPTuners canned tuning. Please contact us to see if there are updates for your application.