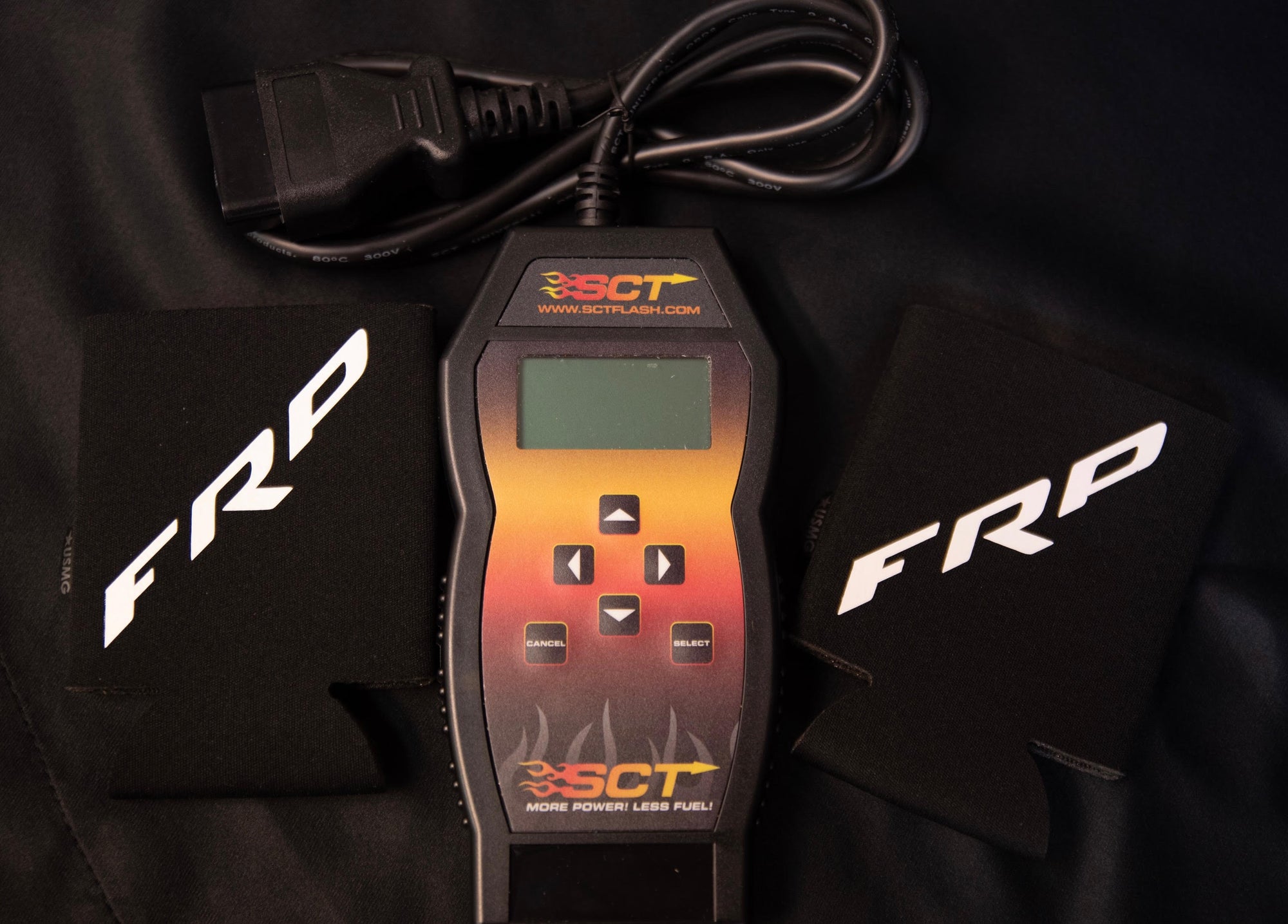 SCT Tuning (96-03, Select Models from 04-06)
NO LONGER SELLING SCT DEVICES. TUNING WILL CONTINUE TO BE SUPPORTED
The SCT 3200 (X3) is the current generation handheld programmer for Dodge/Chrysler/Jeep. We use these for most 96-03 models, with select models from 04-07 (2004 WJ and TJ models, 04-06 SRT10 trucks, 04-07 Viper) . We use the X3 to communicate from laptop to vehicle. 
If you are purchasing tuning, and do not have an SCT handheld (X3 3200), you will need to purchase one.

We have a few different packages available for your needs.
For stock, or bolt-on cars, trucks, and Jeeps we offer "canned" tunes. Our canned tunes are designed for common bolt-on combinations of aftermarket parts like cold air intakes, intake manifolds, aftermarket or modified OEM-based throttle bodies, headers, and exhaust. They are not designed for aftermarket (or NON OEM FOR THE VEHICLE) camshafts, non-OEM injectors, or modified cylinder heads. FRP is not responsible for misuse of the supplied canned tunes. 

Our canned tunes see occasional updates- as such we include one free update on most platforms for SCT canned tuning.
Please contact us to see if there are updates for your application.
For those of you with more serious modifications such as forged internals, hot camshafts, headwork, or stroker cranks (or any variation of those), please select our "NA Custom Tuning" packages. This will cover the tuning required to dial in your naturally aspirated application. ALL custom tuning requires a wideband (we recommend AEM 30-4110 with the SCT 9608 patch cable) and a PC laptop for both tune-loading and data logging.
I provide a guide via email after the purchase of custom tuning to help walk you through the process of loading email tunes as well as data logging.
For Forced Induction applications (Supercharged/Turbocharged) , please select our Boost Tuning package. This will cover tuning as required to handle
converting the tune for use with an SRT-4 2-bar MAP sensor, larger injectors, and other supporting modifications. We will also provide a 1-bar MAP tune upon request to pass emissions.

ALL CUSTOM TUNING requires a wideband O2 (we recommend AEM 30-4110 with the SCT 9608 patch cable) and a PC laptop for both tune-loading and datalogging.
All Custom Tunes are done on 91-93 octane unless otherwise arranged. If you need a race gas tune or E85 tune, we can do that at an additional cost. Please contact us at frpsharedemail@gmail.com for a personalized quote.