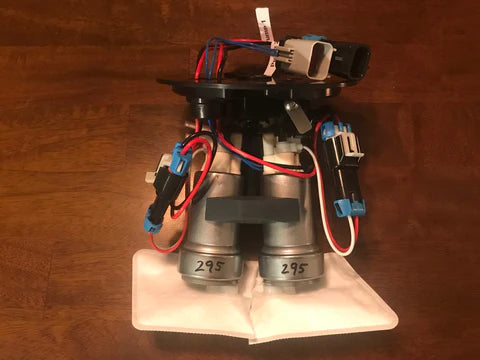 tapped performance STAGE 1.5 HELLCAT FUEL SYSTEM
Tired of searching through forums and pages trying to find everything you need for your fuel system? This kit is identical to our Stage 1 but this complete setup uses a Fore double pump hat with 295 pumps installed. Although the 285 (Factory Hellcat Pump) is a known powerhouse rated at 525lph, that is free-flow, at 40psi they are around 470lph, the 295 pump is also a 525lph pump but pumps out 525lph at 40psi! This gives you that "edge" of safety when shooting for those 4 digit horsepower numbers on Ethanol. Being a shop that has had to purchase and install these for local customers, we went out of the way to come up with a complete solution so you don't have to spend hours finding everything you need and waiting days for it to show up. You get:
Fore Double hat w/295 pumps
Hat includes connector to plug right into vehicles harness for Fuel Level Sender - a Plug & Play Tapped exclusive!
Harness from pump assembly to rear area of vehicle
Tapped Performance custom built Y harness - for adding secondary FPCM
New from Dodge FPCM (Fuel Pump Control Module)
(Option) Fore Innovations 88mm filter with billet brackets and stainless filter media
(Option) Fittings and assembled black nylon braided hoses to add in external filter
This system is intended for factory style returnless configurations (fully upgrade-able) where increased boost and E85 is desired. Adding a secondary FPCM with our Y harness means you have to cut NOTHING, you simply mount the new "secondary" FPCM, unplug factory harness from original FPCM, plug into the Tapped Y harness, plug Y harness into both FPCM's which includes heavy duty 50A relay, fuse and connecting wires (Ground & Batt+). At this point you have a factory like control system that the PCM is controlling via Can Bus. To add to the bonus of no-cut installation, Tapped Performance installs the needed connector at the pump hat so you do not have to cut the fuel sender wires out of factory pump module connector simply plug it in! The only two wires you must cut are on the fuel sender unit which gets transferred from factory pump module to Fore unit, but that is inside the tank, so if you ever wanted to return vehicle to stock (we have seen it happen), nobody will see a bunch of spliced up wires from a previous install. The external Fore filter is for injector protection and Tapped Performance assembles the nylon braided hoses and Fore fittings to intercept factory feed line at front of tank (under car), making the install smooth and painless!